Metabolomics
Identification of putative biomarkers for leptomeningeal invasion in B-cell non-Hodgkin lymphoma by NMR metabolomics
Using untargeted 1H-NMR metabolomics of cerebrospinal fluid we were able to identify putative biomarkers for central nervous infiltration on B-cell non-Hodgkin lymphoma patients.
The results show that the CSF NMR-metabolomics approach is a promising complementary method in clinical diagnosis and treatment follow-up for these patients.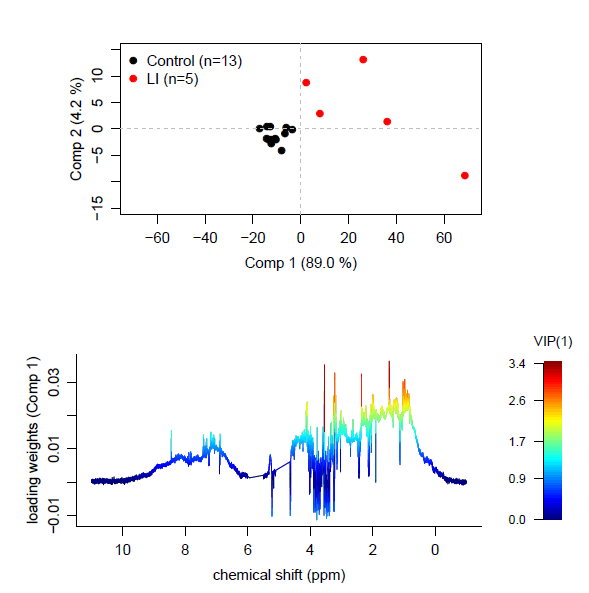 Graça G, et al. Metabolomics (2017) 13: 136. https://doi.org/10.1007/s11306-017-1269-9
13C-NMR to study cellular metabolism
Resorting to 13C-NMR specific labelling it was possible to observe that acute myeloma leukaemia cell lines are able to adjust their metabolism in order to take advantage of their microenvironment. Promyelocytic (HL60) and monocytic leukaemia (THP1) cell lines are very well adapted to an environment rich in lactate, being able to internalize it and use it as the basis for the production of TCA cycle intermediates, several amino acids and the bases for many nucleotides. While erythroid leukaemia (HEL) cells, on the other hand, don't seem to be able to modify their metabolism in order to take advantage of the abundance of lactate.
Lopes-Coelho F, et al. Oncotarget. (2017 ) 8:82803-82823. doi: 10.18632/oncotarget.20294